It's hot! Today we're pushing 100 degrees...much too hot to be wearing a knit tee, even if it's 80% cotton and 20% wool. I had to beg my daughter to step outside for this shot, taken in a small patch of shade.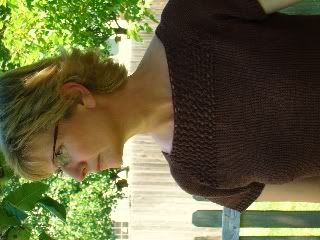 It's my version of the
Green Gable
tee, knit in Cotton Fleece. Of course I had to finish it when the temps are soaring and I can barely force myself to model it, much less wear it. I'm envisioning this as more of a fall-is-coming, cooler evenings abound type of garment.
Due to the speediness of the photo shoot, you can't really see the complete garment. I knit the size small, worrying all the time that it would be too snug. Instead, I wish it was a little more form-fitting than it is. I added one set of increase rows before removing the stitches for sleeves, since when I tried it on it seemed it might be too tight in the armholes.
Now I think it was just the fact that the yarn holding the stitches was a little tight. Anyway, to compensate, I knit decreases every sixth row all the way to the waistline. If I'd started those decreases directly under the armhole (instead of 4.5 inches down) I think things might be a little more to my liking.
But really, I think it's fine and will be very wearable...a few months from now!