My little travel knitting project turned out to be perfect for the car, and didn't take long to complete! I just finished the final few rows today and wove in the various ends that were hanging about. A little blast with the steam iron, and it's good to go.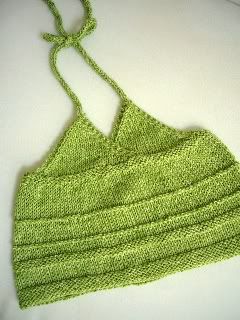 This is the 12 month size of the
Katja
pattern from Knitty. The yarn is Schachenmayr "Denim" although nothing about it reminds me of that fabric. It's 100% cotton and very soft, but very prone to splitting. I hope it holds up well in the wash! At any rate, this will soon be in the mail to my little niece in the Detroit area, where I hope at least a few months of warm weather remain for wearing such a breezy little top.