I knew this was going to happen. Just felt it in my gut the entire time I've been knitting this big-headed guy. I remember reading on someone else's blog that they, too, ran out of yarn while knitting
Baby Bobbi
. But I ignored it. Decided to roll the dice. And I lost.
Poor little guy. Here's the sad shot. The yarn remaining is sitting where one of his little ears should be. Notice the other side of the head doesn't have anything to cover the embarrassing bald spot.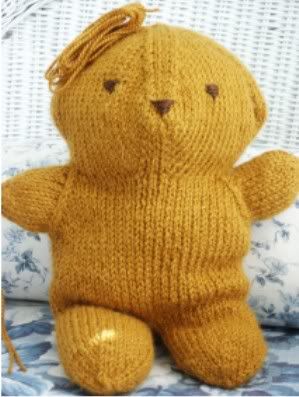 So, now I'll be forced to buy another skein of Blue Sky Alpacas yarn just for the few yards needed for the ears. Sigh. If I could just go buy it at my LYS, that wouldn't be so bad. But this was an order from
Purl
, and at the time they had only three skeins in this color. Now I'll have to place an order again just for a single skein. Hmmm...I wonder what else I could buy to make the ordering more worthwhile?