...will there be enough yarn?
That's what I've been wondering as I knit this.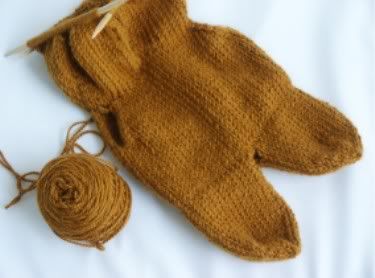 It's
Baby Bobbi Bear
, and I'm following the pattern specs exactly. I ordered three skeins of the Blue Sky Alpaca (color #73, tarnished gold) and I'm knitting with two strands on US 9 needles. I'm beginning to wonder, however, if this bear will have only one arm...or perhaps be ear-less. Yikes! I actually finished the head last night after snapping this shot, and I'm even more nervous now than before.
At this point, I'll soldier on and see how things go. I may have to place another order with
Purl
if things go badly.
*This
book
was a favorite of my daughter when she was much younger!