Wow, it's been so long since I posted...and so long since I've had any knitting progress to show. Baby Bobbi Bear is still ear-less as I continue my search locally for some solution to the yarn problem. The Clapotis is in the home stretch, as I'm finally starting the decrease rows. The Branching Out and Ruffles scarves are still languishing on the needles, where they've been since early summer.
What I need is some retail therapy.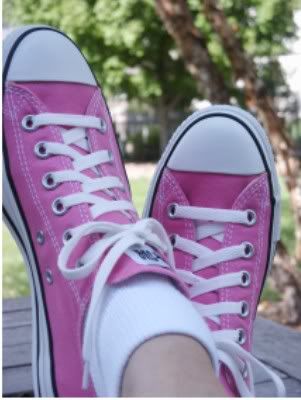 These perky pink shoes may do the trick. I've wanted some of these Converse shoes off-and-on for a while. Now I'm trying them out around home to be sure they're *keepers.*
Admittedly, they offer absolutely no arch support. And they're a bit big on me...I bought women's size 9 since there were no half-sizes available and I'm not sure 8s would give enough toe room. As a result, though, they slip a little on the heel. On the upside, they would definitely brighten up a dreary winter day. I'll have to give them a little more carpet time this evening before I make a final decision.
In the meantime, any suggestions on a great fall knit to try to get me out of my doldrums...something to match the shoes perhaps?