The
Clapotis
is finally off the needles! I started this project on vacation in July and flew through it for a while. Then I set it aside to focus on several baby knits, and finally got serious again last week about finishing it. Maybe I was inspired by the (finally) cooler weather, and the anticipation of actually being able to wear this.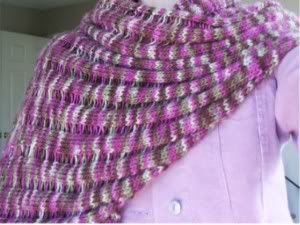 I'm so pleased with how this turned out. The colors go perfectly with many things in my fall wardrobe, and the yarn is luscious. I used
Lorna's Laces Lion & Lamb
in the "Vera" colorway, which I think is worth the price. I rarely splurge on the high-end yarns, but this one earns its keep. It's soooooo soft! I wore it for the first time yesterday, and it's just like wrapping up in a favorite, cuddly blanket.
For anyone keeping track, I used three skeins of the L&L as called for in the pattern. However, after seeing many folks run out of yarn on this shawl/scarf, I decided up front to knit fewer increase and decrease rows so I wouldn't have to sweat it. I was actually able to knit one extra set of rows on the straight section, having knit one fewer set of increase rows and one fewer of the decrease set. And, I had about 28 yards left over! So in fact, could have made this a little longer...but better safe than sorry I say.