I've been knitting along on this sock so happily this week...just knit, knit, knit, no worries, right?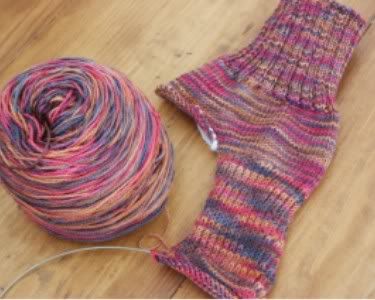 Well, there was a *teensy* worry, but I was choosing to ignore it. Just that little worry called (dramatic pause) gauge.
I haven't worked on any socks since my failed attempt with the peach Lorna's Laces sock. I cast on two (three?) times for that pair, trying to hit gauge. I just coudn't admit that I was getting ten stitches per inch with that yarn on size 0 needles, and kept trying sizes that were too small. The sock finally went to the frog pond, where that pastel yarn will stay 'till next spring.
So, when I cast on with this autumnal Cherry Tree Hill yarn, I decided to just take a deep breath, cast on 80 (80!) stitches, and start knitting. Because that's what I'd need with the gauge I got previously on the LL yarn, and I convinced myself that this yarn would knit at the same gauge.
That, unfortunately, was my fatal mistake. I was knitting happily along on ribbed cuff, and things seemed O.K. When I got to the stockinette, however, I decided to check the gauge--just for fun, of course. What I saw did not please me. I was only getting nine stitches to the inch, not ten. Hmm...what to do? Knit some more, ignore the facts, hope somehow things might change. Maybe I would just knit the heel flap, turn the heel, then try the sock on. Maybe an extra inch too big wouldn't be that bad?
Well that's where I ended up this morning. And when I tried the sock on, the ankle was just baggy. No getting around it...baggy! I hate baggy socks, socks that are too big, slump down, twist around my foot while inside my shoe. So there's no denying now what has to be done. I'll cast on again with 72 stitches and forge ahead.
My question for all you sock knitters out there, though, is this: How do I keep this from happening again? Is a small gauge swatch (stockinette, knit flat) good enough? Do I have to knit several inches on circs to get accurate gauge? What *is* the right approach?