I'm officially sick of making
these bags
. That doesn't mean I won't ever knit one again. They're cute. Functional--and fun. People notice them and like them. It's just that I've made too many, too close together.
This one was knit as a favor for a friend. She chose the yarn and I agreed to make it for her. Perhaps part of the reason I enjoyed this one less was that I didn't love the color combo. She insisted that a very low contrast in color was what she wanted, so I wasn't able to convince her to move toward the brighter pinks.
I did suggest adding the stripe, to add a *little* pizzaz. And, O.K., to keep myself just a little entertained while knitting!
So, before this one goes to its new owner, I leave you with this parting shot.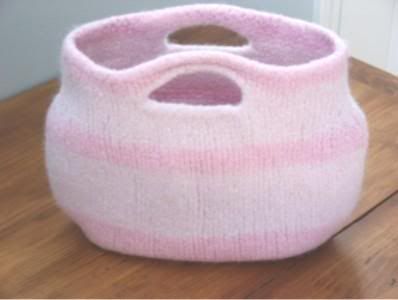 Just shoot me if I mention making another anytime soon!