Today is Flash Your Stash day, as organized by the ever-energetic
Wendy
. It's a day to show of all the fabulous fibers hiding in your home. And maybe to remember what's actually there.
My sharing today will be brief. That's because my stash is small. Almost nonexistent, compared to some others. I credit the sparseness of the stash to the fact that I don't deal well with clutter. Have limited storage space. And I don't tend to buy yarn for which I don't already have a project in mind. I've learned over time that if I buy something for "later" I don't always like it when I get back to it. So, I limit my purchases and it seems to work for me.
Without further ado, here are some of my goodies.
First, the basket shots.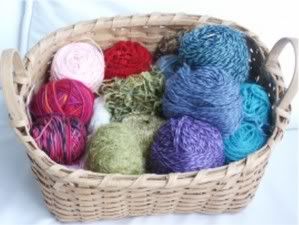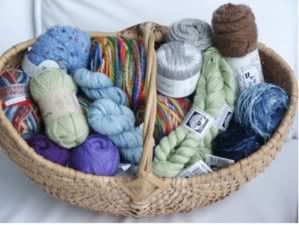 The first contains the "leftovers." This yarn has been used for some project or another, but enough remains that I might still be able to create something from the odd balls and bits.
The second is the "pristine" yarn. It hasn't been on the needles, but is destined for greatness...hopefully soon! What I'm not showing you are all the other smaller baskets...and bags...that have even smaller bits left, which I'm not sure what to do with.
Now for a few individual shots. First, there's this.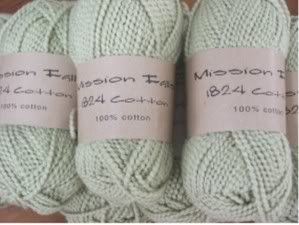 I have 11 skeins of this Mission Falls Cotton, which is now discontinued. I'd like to make a sweater for myself, but this may not be enough yardage--each skein is just 84 yards. I'm still searching for the perfect pattern--maybe a cardigan--that will work with what I have. If you have suggestions, I've love to hear them!
Then, there's this.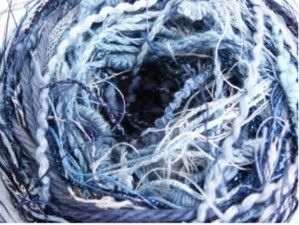 What you're looking at is my most expensive single skein of yarn. Don't even ask what I paid. It's called Wild Stuff by Prism, and it's a combination of lots of different textures and colors. Every few yards, it changes, so theoretically you can knit something fabulous from a single skein, although it's only 150 yards total. So far, it's remained in my basket, with these two balls that I bought to partner with it.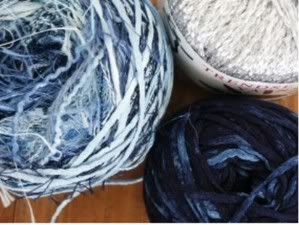 The silvery yarn is Sunshine by Trendsetter, and the denim ribbon is Bon Bon, also by Prism. My original intent was to combine these three into a funky triangle shawl. I'm not sure why I've never done that. Something tells me it's time to get back to the project.
And finally, on to this.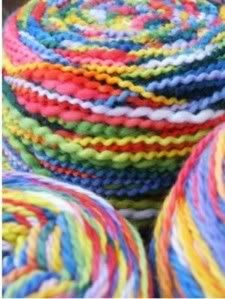 These three skeins are by Schaefer; one skein of Elaine, two of Miss Priss, in a colorway called Sprinkles. It came in a kit with a pattern for a cute side-to-side cardigan for a little girl. Unfortunately, after I bought it, *my* little girl decided she no longer liked it. Sigh. I've kept it in the basket, thinking maybe it could make a cute baby sweater (or two, or three?) as a gift for someone in the future. We'll see.
So you've seen my small stash, and a few of my featured faves. What I've learned from this is that I have some great projects waiting in the wings.
Now go take a look at your stash...and see what projects are calling out to you!