Last week I needed to get out of the house. *Needed* to buy some new yarn. Needed something that wasn't wool. So I went to the
Yarn Shop
and came home with this.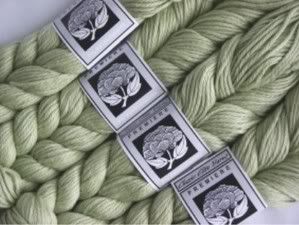 It's Classic Elite Premiere, a cotton/tencel blend that's very soft. It's also the recommended yarn for the Ruffles scarf from
Scarf Style
. I got this book as a Christmas gift from my husband. Unfortunately, after Christmas I was a little burned out from all the holiday gift knitting, so I set it aside. Last week, however, in an effort to find a new project that does NOT involved felting, I picked up the book again and remembered how much I like this scarf.
This is the progress I've made so far.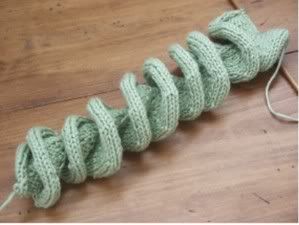 You'll notice I'm knitting on bamboo straight needles, something I rarely do. My knitting friend
Abbey
advised I'd be sorry if I tried this pattern on circs--my tool of choice--because of all the short rows and constant turning. So it's taken a little getting used to, but so far, so good! It's an easy pattern to memorize and fun to watch as the ruffles form. My daughter was especially excited about this one, so it might end up in her closet when all's said and done.