I always think of Monday as my "recovery" day. A day to get back into my routine. Wash loads of laundry that accumulated from the weekend. Pay bills. Look ahead to the week's obligations. Think about meals for the coming days. You know...all the fun stuff of life!
Anyway, the day after a holiday seems to require even more recovery time. I literally just pulled out most of my Easter decorations from the basement storage bin. And now it's time to put them away! I have a feeling it will take me a while to get around to that.
On that note, I have one final item to show you from the Easter festivities.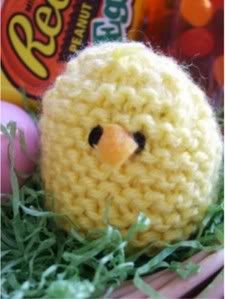 Not your ordinary chick...it's hiding a special treat.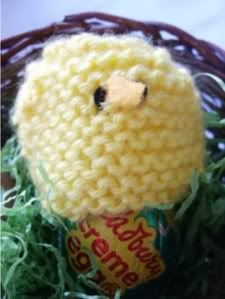 I managed to crank out two of these--one for each of my kids--between all the other preparations happening late Saturday evening. I think they thought I was a little crazy, knitting a cozy for their Cadbury eggs...but by now, they've learned to put up with my little quirks.