I've been working outside (mostly) for the past couple of weeks, getting the yard, garden and patio in shape for summer. It's hard work! No need to go to the gym on these days. I traded my Nikes for these instead.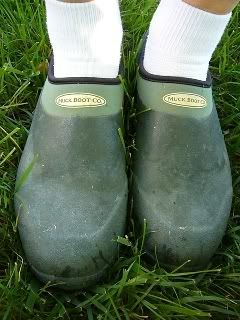 About five or six years ago my husband built two raised vegetable and flower beds for me. Time took its toll on the cedar, however, and this is the sorry state they were in.
Not so pretty! But some new cedar, along with fresh soil and hummus, began a wonderful transformation.
Don't forget the plants, too. Tomatoes, basil, marigolds (to keep away those pesky bugs).
The second bed I seeded heavily with zinnias so I can enjoy lots of colorful cut flowers later in the season. It looks a little sad now, but later this summer it will be the star. This was just the beginning of the outdoor work! Mulching, planting pots of annuals for the patio, weeding, sanding and painting patio furniture, and a few other projects have sucked up all my time this week. Max, however, was unimpressed.
For me, there is a reward at the end of the day.
Iced tea in my favorite glass! Ahhh...