Yesterday I took a break from my usual Sunday afternoon activities to take a soldered charms class
here
. This is something I've always wanted to try! I've seen many wonderful charms others have made and always wished I could make some of my own.
Anyway, after spending quite a bit of time finding images I wanted to use, I finally settled on some current and some old photos that I thought would work nicely. Most in the class brought photos, although you can use all kinds of things--pretty papers, fabric, words or phrases--really almost anything that will fit the size of the charm you're making. We were cautioned against using actual photos or anything printed on plastic, as those items will melt when you solder.
These are the five I was able to complete yesterday. They're far from perfect! I learned that soldering is definitely an art, and like anything else, it takes practice.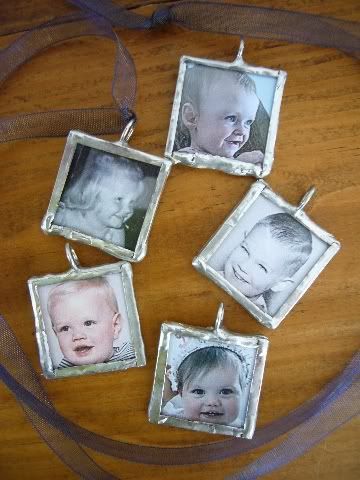 The two photos in the middle are of me and my husband in our younger days! On the back of those charms I put our names. These will be small gifts for each of our moms. The bottom two charms are my two kids as babies. The back of each charm has a current-day photo of them. The top charm is my little niece, and the back just says "Sweet Pea." That one will go to her mom.
I debated about buying supplies to make more charms, but haven't decided yet. It would take around $100 to get going at home. Not really too bad, but I need to think long and hard about commiting to another craft!