I'm so behind in my blogging AND my knitting! I'm not sure why, although I have been making a good dent in my "to do" list here at home, so maybe that's the trade-off.
At any rate, this little sweater and hat were actually finished last week and mailed a couple of days ago (better late than never) to my niece for her first birthday.
I followed the
Haiku
pattern from Knitty again and it's actually a fast knit. The superwash yarn I used was hand-dyed for me by
Meg
. Be sure to check out her etsy
shop
--her colors are fabulous! She sent a tiny sample of sock yarn in the package with this yarn, and it's sooooo yummy.
The hat was just knit from the leftovers, following a basic pattern in the Ann Budd
book
. It may be just a tad short but should be plenty stretchy to fit around little A's head.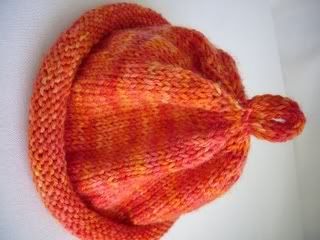 Now that this gift is safely in the mail, I can now return to the socks and shawl that are patiently waiting!