Because I'm too distracted...busy...lazy...unfocused...(add your label here) to even get the first sock done! Forget second sock syndrome--I have FSS!
Knitting this sock is fun, the pattern is easy, the yarn is great, yet my progress is slow. See?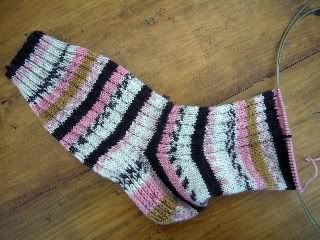 My friend
Kyra
started hers after me, and she's done! Probably wearing those
beauties
right now, even as I type. Sigh.
Well, enough whining. I have a sock that needs my attention!