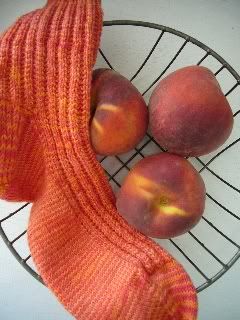 I finally got one of the peach socks off the needles! I've been in a knitting and crafting slump lately, and I'm not sure why. Maybe it's my focus on back-to-school (this week!) activities and just a lack of motivation to begin anything new.
I've been thinking of a *big* project for fall (something more than socks) and haven't made any decisions yet. One idea that keeps coming back to me is
this
. So pretty, such intriguing yarn. What do you think? I'm so bad at making decisions!
For now, I'll get busy and cast on for the mate so I'll have a peachy pair.