I'm back to cake making again. Notice I said "making," not "baking." Another of my friends had a birthday this week, so I made another felt cake as part of my gift to her. I started this with a friend in January, and now all my gal pals are expecting one of these this year.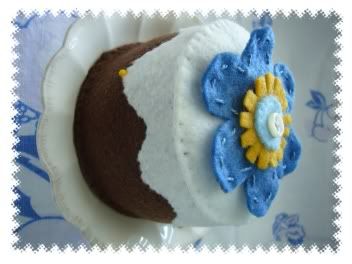 I enjoy making them, but I'm having a hard time finding all the colors of felt I'd like to have. The cakes themselves don't take long, but the embellishments can be frustrating--just a bit tedious. I've decided I must get at least one Ott light (or something similar) in my house for the times I'm doing this kind of work at night.
Anyway, this one's ready to go atop the package and will travel with me to the birthday lunch today. At least a felt cake can't melt in the heat!