Wow, I checked in on the blog yesterday and saw it's been almost two weeks since I posted! I knew it had been a while, but didn't realize I'd been away that long. Things have been busy here--the bathroom remodeling took six weeks, dominating all activity for far too long.
Last weekend we traveled to the state music competition for a solo, quartet and ensemble our son was competing in. And, on Sunday, our daugther was confirmed at church. Did I mention both my parents AND in-laws stayed with us last weekend as well. Yeah, we've been a bit crazy.
However...I have been crafty here and there. Amidst all the flurry of activity, another dear friend had a birthday. We celebrated with breakfast out, and I made another mini felt cake as part of her gift. We both love hearts, so this motif seemed perfect for her.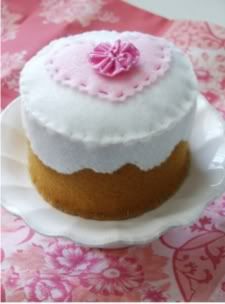 Making this one reminded me I never took a photo of the previous cake I made for another friend. I borrowed it back from her to snap a couple of shots.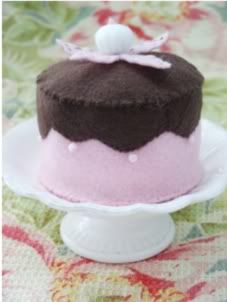 These are so fun--which is good, because the group I celebrate birthdays with throughout the year has informed me they'll be disappointed if they don't each receive their own cake! I just hope I can keep coming up with new ideas.
In case you're wondering, I've also been knitting and felting. Just a couple more quick little bags for fun.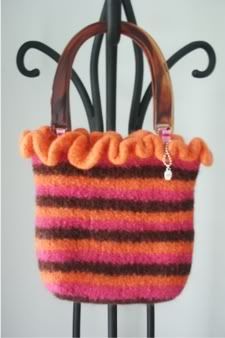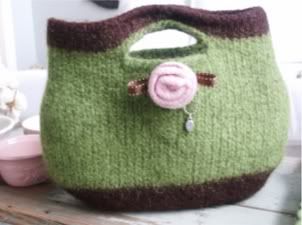 The orange/brown/pink creation turned out a bit wild for my taste...reminds me somehow of a carnival. I added the ruffle to the top just to try the technique, but I think it might have been more effective on a less *busy* bag. My daughter loved it, though, so maybe it's right for a teen.
The other is yet another
buttonhole bag
--I haven't made one in a while, so it was fun again. I especially like the brown/kiwi color combo.
Now, back to the abandonded *second sock* in the Socks that Rock yarn. It's nearly done...I just need to focus. After that, it's on to the
Green Gable
top.