Are you sick of my pink and orange creations yet? Much as I like the combination, I'm even starting to wish for new colors. I decided to use yarn I had left from the Roxy bag to make a small creation of my own. Nothing fancy, but something I might be able to sell. My mom has a friend who's offered to take a few things on consignment, so we'll see how it goes. Somehow I think I'll tire of knitting bags before really making any money!
I also need to come up with some embellishments to add some *zing* to my bags. I tried a sort of spider mum but I'm not sure it's a keeper. I find the small items are especially hard to felt, much more so than the bags. Maybe I should stick with the bags and let folks embellish on their own.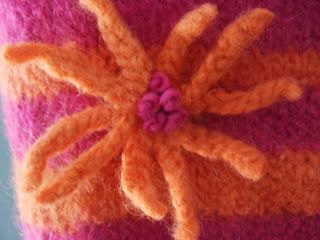 Time now for a new color combo. Lime and chocolate brown, maybe?