I finished the first of my waffle stitch socks this weekend (finally!) and the jury's still out on it. I wanted to try a different stitch pattern--something other than stockinette--so I tried a new pattern from Sensational Knitted Socks by Charlene Schurch. I love the book! It offers so many options, and the patterns are so easy to follow. I think I just picked the wrong stitch pattern for me. This knit up much bulkier than I'd imagined. Take a look at the stitch pattern.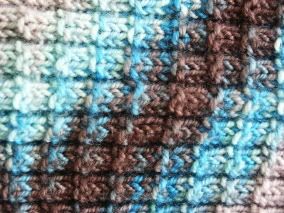 And the finished sock.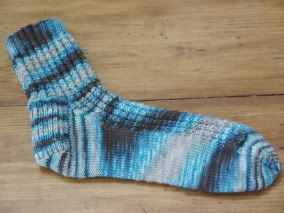 The Socks that Rock yarn is nice to knit with, but I can't believe how much it pools! This is the most pooling I've experienced on any garment. Since it's going to be on my feet, however, I can live with it. Just for fun, here's the other side.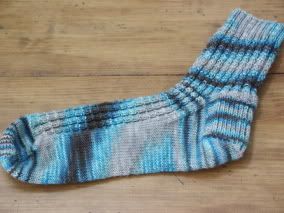 See what I mean? It'll be interesting to see how sock number two turns out. Time to cast on!