I needed a quick little project as a diversion to the latest pair of socks I'm working on, so this little gem was just the ticket. I found the pattern online
here
recently and just needed the right time to give it a go.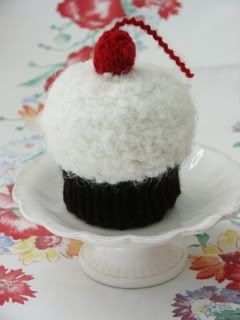 I used Cascade 220 for the cake, and Berocco "Plush" for the frosting. The cherry on top is knit with a bit of Shaeffer "Elaine." All just leftovers from other projects. Woo hoo! Knitting with size 3 DPNs, the base of the cake is about 2 inches in diameter. Almost actual cupcake size!
Anyway, this was a fun little project and a very easy pattern to follow. The only downside? Now I want a *real* one to bite into!