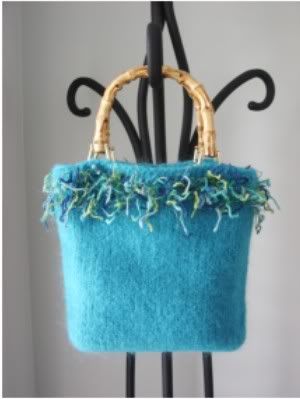 More felting has been going on around here, but this time it's my daughter's project. She hasn't done a lot of knitting--just a couple of scarves--but wanted to try something with an end result that was a little more interesting to her.

So a couple of months ago, we were at a nearby LYS and Miss Em chose this turquoise Lamb's Pride bulky and Crystal Palace Squiggle. We looked at lots of patterns but I finally decided we could just wing it. I should have made notes about how many stitches we cast on, but I'm guessing it was 50 or 60.

She worked diligently at the beginning, then her interest waned until last week when I was close to finishing another bag I've been working on. Suddenly she was interested in finishing so we could both felt our projects over the weekend, which was just the motivation needed.

We hadn't made plans regarding the strap or handles, but it just dawned on me that these bamboo handles could be very cute, and save the agony of knitting miles of i-cord. Our local Hobby Lobby had the handles and necessary hardware for just a little over $5, which I thought was a great price. Now the little bag is ready for its springtime debut!

Oh, and yes, my bag was felted also. I'm just waiting for the handles I've ordered to arrive, then I'll post a little show and tell!