Tomorrow we're going to a potluck dinner, and the food theme is Italian. So I offered to bring tiramisu, although I've never made it before! (Is is truly Italian?) Somehow I always seem to try new recipes on guests or friends...I guess I'm too lazy to try them otherwise.
Anyway, I searched the Web for recipes, and there are LOTS to choose from. I couldn't believe the choices. I didn't realize the *traditional* recipe calls for uncooked egg yolks, which I wanted to avoid. I did find lots of recipes that offered a *cooked* egg option, so I selected
one
from that list.
Here's a look at the assembly process, starting with the bottom layer of espresso-dipped ladyfingers and a blanket of filling.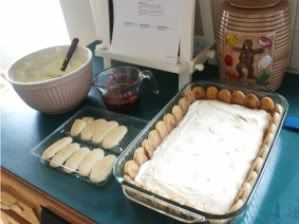 Then it's time for another layer of the sponge cake brushed with espresso.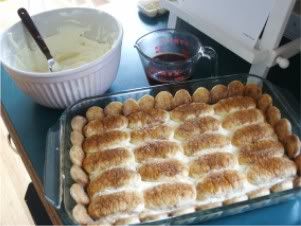 And a final layer of filling, topped with chocolate shavings.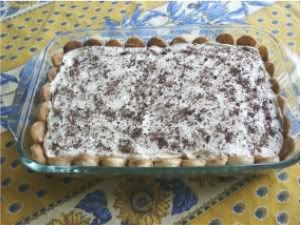 I'm having a hard time not digging into this right now. I can tell you, though, after licking the bowl, the filling is quite delicious. I can't wait 'till dinner tomorrow!