The Trekking 100 socks are finally ready to wear! I finished the second sock yesterday, and you won't believe how different they are. In this shot, the differences seem small.
On my feet, though, it's another story.
Wow, what a variation! I love them, though, and I'll be wearing them often.
As for other projects, here's something I won't be wearing. First it looked like this.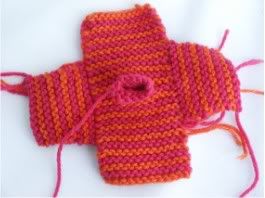 And it became this.
It's the egg cozy sweater from
Weekend Knitting
, which I've been intending to knit for a long time. I seem to be on a *miniature* kick, and this quick project filled the bill for me. I don't know if I'll make more for my Easter eggs--I might be too busy trying
this
.