This weekend I finally finished the first Trekking #100 sock. (A little concert knitting never hurts!) Anyway, now that the first half of the pair is off the needles, I'm motivated to fly through the second so I can wear these babies.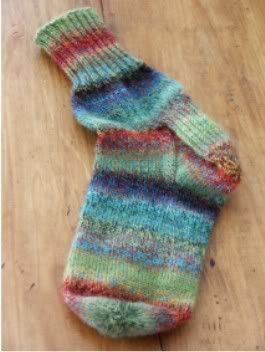 It seems every sock knitter around has used this Trekking colorway...I didn't know I was so *in* when I chose it! I wonder if there's a Flickr group just for Trekking socks?...
As for other craftiness, here's a small project I did for a package for my daughter's birthday. It was created somewhat on the fly, and I would have done some things differently given more time. But next time I can use some of my other ideas.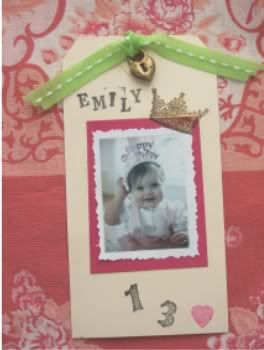 I used one of my favorite photos, taken on her first birthday. I first tried a photo transfer
technique
that didn't work. I'm guessing that ink jet copies don't work the same as traditional photocopies. Has anyone else tried this? I think I'll make a trip to Kinko's to make some copies and experiment for future projects.
I also created another felt birthday cake for a friend last week (pink and brown!) but forgot to photograph it before it was gifted. Rats! I may try to borrow it back sometime for a photo session soon.