This weekend I put the final touches on a project that's been in the works for a while. It's
Roxy Lady
, designed by the talented
Wendy
(via
The Garter Belt
). This is the first felted bag I've done with a slip stitch motif, and I think the result is impressive.
For this bag, I knit with Lamb's Pride Bulky (from the stash!) and used about 1 1/2 skeins of each color. I did modify the pattern just a bit:
*I knit only three pattern repeats (28 rows each) instead of the four specified
*I used bulky (rather than two strands of worsted) yarn
*I omitted the hem at the top (due to the bulkiness of the bag once felted)
*I used purchased suede handles, rather than the two-color twisted strap
I was a bit concerned before the bag was felted, as the fabric was quite *bubbly* due to my uneven tension with the two colors.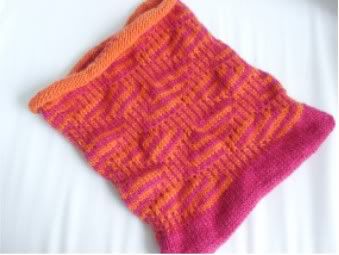 The Lamb's Pride felts so readily, however, that everything smoothed out in the wash. I was very happy with the result, and the size is great...almost identical to my favorite
Vera
totebag!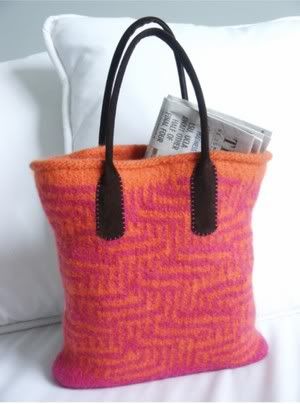 I've been wanting to try some different handles on a bag, and this one seemed the perfect candidate. So I ordered these suede handles
online
and I think the handsewn detail is nice.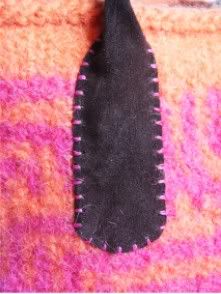 The only final touch I may consider is to knit (and felt) a pocket for the inside of the bag. Other than that, I think this one's on the *finished* list...and will be seen around town often!