It's the first week of the new year, which means it's time for new yarn! I was a good girl through the Christmas season, staying out of the yarn shops and resisting the urge to order online. Today, however, all bets are off and I went shopping for supplies for two new projects.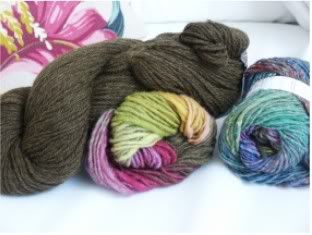 The two yarns cuddling up to each other on the left are earmarked for
this
felted bag. The Knit Nighters are doing this one as a KAL, and although I need another bag like I need another hole in the head, I decided to jump on the bandwagon anyway. I bought Cascade 220 in a heather-y taupe/green shade (#9459) for the main color, and Noro Kureyon in color #95. I hope there's enough difference between the two to allow the colors forming the design to "pop." It'll be a fun experiment!
The other skein of Noro on the right is Silk Garden, color #213, and is destined for a simple pair of fingerless gloves. My hands are always cold in the house, whether I'm working on the computer or knitting, so I hope the gloves will help make them a little more toasty. (I guess washing more dishes could do the trick, too, but that's not nearly as fun!)
Finally, I want to show you a couple of books I got for Christmas. Both are very fun and hopefully will keep my creative juices flowing this year.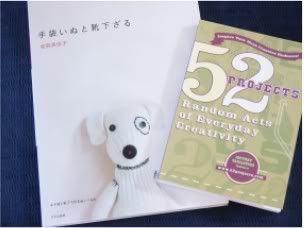 The book on the left has been making the rounds on numerous blogs. It has lots of patterns for cute toys made from socks or gloves. All in Japanese, mind you, but the photos and diagrams really show everything you need to know.
The book on the right has lots of interesting ideas for projects of all sorts. They include lots of writing and reflecting. If you haven't seen the
blog
devoted to this book, check it out! (
Jennifer
, this one's right up your alley!)