I love the idea of a new year, an unknown new beginning. I love the new calendars, unblemished, waiting for events to be noted. I love putting away the Christmas decorations (pretty as they are) and returning the house to its more simplified look. I love the sense of accomplishment of having made it through another holiday season and all its busyness. I love returning to a regular family routine.
I also love the start of new knitting projects. Right now I have two on the needles. First up, my second Clapotis.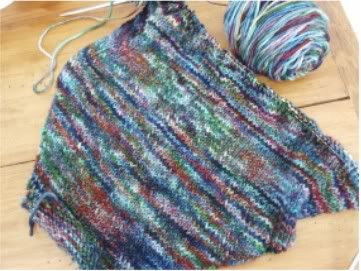 I've just made it through the increase section and one set of repeats on the straight section. I'm already starting to wonder if the yarn will hold out 'till the end. I'm using a superwash merino, handpainted, that I picked up at a local fiber arts show a month or so ago. I think it was just shy of 600 yards, so I'm modifying the pattern repeats a bit and hoping for the best.
The colors are knitting up very differently than what I'd expected. Before the yarn was wound into yarn cakes, it seemed very bright, with a lot of turquoise dominating the pallette. Now that I'm knitting it, the turquoise is barely noticeable, but the forest green and navy are taking over.
I'm not sure if this one will remain in my wardrobe or if it will be gifted to someone else. If there's someone in my life who is partial to these colors, it may find its way to their home instead of mine. We'll see.
Next is the start of a pair of socks using my Trekking XXL yarn. I love the way these colors are changing and blending.
I had imagined these would be more purple, but now I see more denim hues, which is fine by me. These are definitely meant for my feet, not to be given away!
Now that these two projects are chugging along, I'm on the hunt for something else, something different. I haven't felted anything in a while, although I have so many bags (and have made so many for family and friends), I'm not sure what I'd do with another. I need to keep my eyes open for the next "new" thing. Any ideas?