I'm finally starting to feel as if things are coming together for Christmas. All the gifts are wrapped...only one more batch of cookies to bake..and the Christmas scarves are off the needles. Woo-hoo!
The Ruffle scarf, which took forever to trudge through, turned out very cute and it's on its way to a friend in Colorado. It's not a very practical scarf for keeping warm, but it's definitely a fun accessory.
This shot isn't the best, but I didn't have a model handy so the chair had to stand in. The green is actually a bit lighter and brighter, more of a happy apple green. I cheated and actually used only three of the four skeins called for in the pattern, 'cause I thought it was long enough and I was just ready to be done!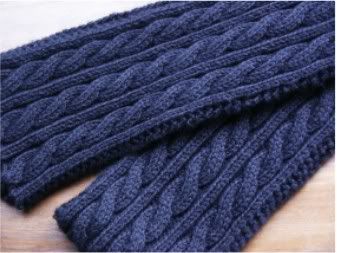 This is the finished Irish Hiking scarf for my dad. I realize it doesn't look much different than the in-progress photo I posted recently! This shot shows the cables a bit better, though. This is a fun knit and a perfect "guy" gift.
Now I'm on to some more fun knits for me! I started another pair of socks with the Trekking XXL yarn I've been saving. I'm also planning another Clapotis with the huge hank of hand-dyed yarn I bought a few weeks ago. I wound the yarn today and it's ready to be tucked into my travel knitting bag.
We're heading out tomorrow to celebrate Christmas with lots of family members. I'm especially excited to meet my new niece, now two months old. I think my daughter, my mom and I will all be fighting for the privilege of holding and cuddling the newest member of the family! Wherever you are, whatever you celebrate, I hope you have a wonderful, peaceful and restful holiday. Now...let the packing begin!