I wanted some fingerless mitts because my hands are always cold around the house, and I thought they'd be perfect for the time I spend working on the computer. So I bought a skein of Noro Silk Garden (#213) and got busy over the weekend, using
this
pattern.
For some reason, I decided to cast on with size 6 needles, rather than the 8s that were specified. I often drop a needle size or two to get gauge, and I had size 6 DPNs, so that must have been my rationale. The only problem is, I got nearly finished with the first mitt and found it was just a bit too tight. Yes, I can get it on my hand, but it stretches the mitt to its limits.
I could have ripped back and started on larger needles, but I showed the mitt to my daughter and asked if she'd be interested in having a pair for herself. Well, yes! So I moved forward with the second mitt, but changed course and used two circs (size 6) instead. So much easier, done in a flash.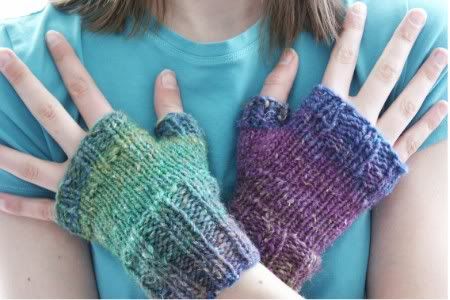 A fun, mismatched pair, yes? What I haven't mentioned is the fact that there's actually a third mitt in the lineup. The first one I knit was also the least colorful...somehow the first one ended up as taupe-brown blending to a fern green, but it just didn't grab me. So now you know--you can actually get three fingerless mitts from just one skein of Silk Garden. Then you'll always have a backup in case of a mitt emergency...or just a change in your mood that dictates a new pairing.