Last week I made my first project from the Japanese craft book I got for Christmas. Here she is!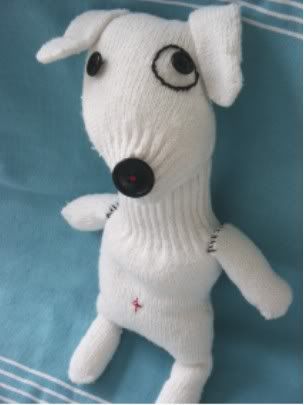 This is my first "glove dog," which my daughter promptly named Maggie. She's a little lopsided, far from perfect, but pretty good for a first attempt. Maggie started life as a $1.59 polyester glove on the rack at my local Ace Hardware. Now she has a new home and a new owner (my daughter!) to love her.
Since this pup is entirely handsewn, and has buttons for eyes and nose, she wouldn't be appropriate for small children. But for big kids like me, it's all good. Now I need to try one of the many sock animal options (maybe the elephant?) in this great book.