I gave up a couple hours of my knitting time yesterday to make this little felt cake for a friend's birthday. I found the
tutorial
a while back on Craftster, and yesterday I had the time to actually give it a try.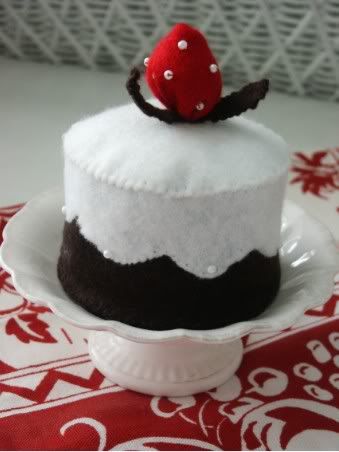 Isn't it cute? It was very easy to make, too. I enjoy handsewing, and this was a very low-stress way to spend a couple of hours. I had the felt in my craft closet, so I was able to get going without the usual trip to the craft store! I also had the beads, which I added to the sides and the strawberry, although I wished I had a much smaller beading needle so I could use some tiny ones in the bead stash.
This will go on top of my wrapped gift when I present it to my friend next week. Next time, I may try one about half this size--this one's about three inches in diameter and two inches tall, not counting the strawberry topper. Somehow the cuteness factor seems to increase as the size of these little projects decreases!