...'bout a bag named Kristina.
This felted bag saga has some ups and downs. I knit
Kristina
as part of a KAL with my fellow Knit Nighters. It seemed like a good way to practice some Fair Isle (which I've only done once before) and do something else I love--felt!
First, let's go straight to the before and after pics. Here she is before her bath.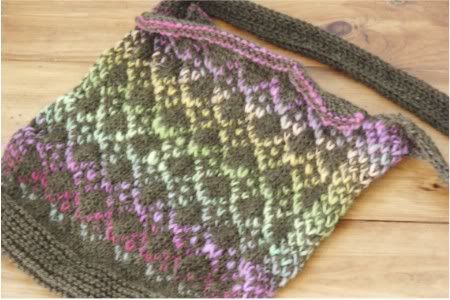 And here she is after.
What I didn't remember to photograph--and it's the part I was unhappy with--were the two flaps at the top after the felting, and before I made some alterations.
See, this is where the "saga" part comes in. Take a close look at the pre-felted shot of the top of the bag. The small flaps are a bit funky, longer than the rest of the bag, and very floppy. I wasn't sure, once the bag was finished, how the flaps were supposed to function. But I don't usually alter a pattern I've never knit before, so I soldiered on.
Anyway, when the bag came out of the wash, I was still perplexed about the flaps. They were wavy, not straight along the top, and didn't seem to serve much purpose. Not long enough to carry over the top of the bag, yet not really functional otherwise.
I decided my best bet was to fold the flaps to the inside and sew them down with regular sewing thread. Before doing that, I added a magnetic closure (found at Hobby Lobby) so I'd have a way to secure the bag when in use. I think this solved the flap problem for the most part.
So for any of you who might want to knit this bag, here are my likes and dislikes of the pattern.
Likes:
*The Fair Isle--just enough challenge for a newbie!
*The finished size of the bag--9 inches tall, 8 inches wide
*The small amount of yarn needed--1 skein Cascade (I used #9459), 1 skein Noro Kureyon (mine is #95)
*The clever use of Noro to give color changes, without having to change colors and weave in lots of ends!
Dislikes:
*Finished closure--there is a zippered version, which I didn't try because I don't like zippers in my bags. The unzippered version just didn't cut it for me, though.
*Strap--I'd like it to be just a little firmer; it feels a bit flimsy even for a small bag such as this one.
If I were to knit this again, I would:
a) omit the flaps, knit just a couple of rows and bind off. Possibly add a button and loop closure.
b) knit one long flap that could go across the top of the purse and fasten with a button on the opposite side.
c) strengthen the strap by knitting with a double strand of Cascade
d) consider adding short purchased handles (maybe like
these
?) on each side in place of the long end-to-end strap.
So there you have it. I think the *likes* outweigh the *dislikes* for me, and knitting from a new pattern is always taking a chance. Knowing what I don't like, though, will help me if I knit this--or something similar--again!