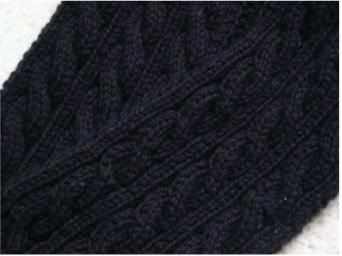 O.K., so I didn't really go outside to take this shot of the
Irish Hiking scarf
in progress...but it *is* snowing today, hence the poor lighting due to the gray, soggy skies.
This is a Christmas gift for my dad this year. For the first time ever, he asked for a handknit item, and this scarf in particular. I made it last year for my husband in a medium gray alpaca and Dad liked it. The yarn for this one is very yummy, softer than the alpaca and not a bit scratchy. It's Cashsoft DK (by Rowan, I think) and it's a blend of merino, microfiber and cashmere.
Anyway, I think Dad will enjoy it. Max gives it a two ears up.