Yesterday we headed out to Kauffman Stadium (aka "The K") to watch the Royals play the Texas Rangers. Well, O.K., I actually went to chat with friends, eat, feel the breeze on my face, and generally enjoy the afternoon. What happened on the baseball diamond was not pretty, so it's a good thing I wasn't counting on that for excitement.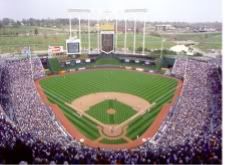 I know it's "America's favorite pasttime," but watching a very slow baseball game doesn't capture my attention for very long. As long as the snacks don't run out, I'm good. And this time, I brought along another friend.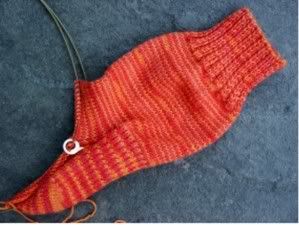 Yes, it's the Lorna's Laces sock, still on the needles but finally progressing beyond the swatch stage. This is the first time I've taken my knitting to the ballpark, but it probably won't be the last. You can get a lot done during nine innings of baseball. I did forget my camera, though,(strike one!) so you'll just have to imagine the sock and the stadium together.