I finally got a chance to get going on another pair of socks. I've been trying to wrap up some other things before starting, but at the same time I've been dying to get this yarn on the needles.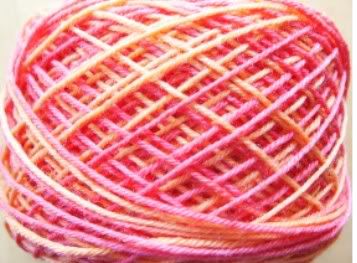 It's Lorna's Laces Shepherd Sock yarn (80% superwash wool, 20% nylon) Lucky Stripe color 312. I, however, think of it as peach sorbet! I think I'm likely to crave something peach-flavored every time I pick up this project, 'cause that's what it reminds me of.
Anyway, I have to confess to a very SLOW start on this. I tried to cast on and start at least three times last night, and for some reason, kept dropping a stitch where the needles joined. I was attempting to cast on and start with the two circulars method. This morning, with a more awake brain (or so I thought) I decided to try again. Same problem! I finally gave in and cast on to the patiently-waiting DPNs, and knit a few rounds before transferring back to the circs.
I originally thought I'd try a new pattern--maybe some lace--on this pair, but given the difficult start, I feel lucky just to get the basic sock pattern launched. Oh, well...maybe next time!