I hate having to knit for gauge, which is why I so often felt objects. Gauge doesn't matter. However, for garments that must fit, it does matter! I really don't mind so much when it's something simple. And actually, I thought I knew what my gauge would be when I started the peachy socks with the lovely Lorna's Laces yarn yesterday.
I can't really call myself a sock veteran, having knit only two pair thus far. I did think I knew that the 56-stitch basic pattern would work fine for me on size 0 needles, which is the pattern and needle size I used on the previous two pair. However, in this instance, I believe I'm wrong. Look at this swatch. (Yesterday it was a sock. Today, since it won't fit, it's a swatch.)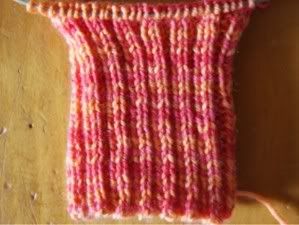 I'm a woman with a fairly standard 8 1/4" ankle circumference, and as I was knitting along on this, I somehow had convinced myself that it would fit me. It's knit in 2 x 2 rib, so there's a lot of elasticity. However, after getting this far, I finally decided to try it on...and it's just not big enough. And, when I compared it to my other handknit socks, it was only a little more than HALF the size. How did that happen?
So now I'm consulting Lucy Neatby's
Cool Socks Warm Feet
for advice on sizing, and trying to determine what my gauge really is. I have such a hard time with this! When it's ribbing, how do you really tell? I thought the measurement needed to be with the fabric relaxed--not stretched--but when I put a ruler against the fabric, what I think I saw seemed impossible.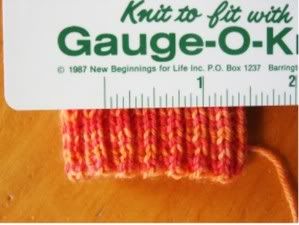 This is where I need YOUR help. What the heck is my gauge here? Is it at all possible that it's about 14 st/inch? I'm having a hard time getting my mind around that. But I can't determine what to think or do. I could start over, add just 4, or maybe 8, more stitches and have another go. But I'd really like it to be a bit more scientific than that. Any advice? Please?