After completing my latest felting frenzy (at least for a week) I *let* myself cast on for a new project. A non-felting project, I might add!
I enjoyed knitting the lace pattern in
Cozy
, so when I saw the
Branching Out
scarf from the spring
Knitty
, I knew I wanted to give it a try. I'm actually using one of the specified yarns--Silky Wool by Elsebeth Lavold--which I don't normally do.
Here's a peek at the small start I've made. This is three pattern repeats.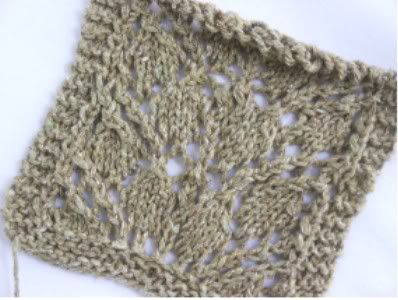 I think this will be a fun knit, but not one I can tackle while talking or dealing with a lot of distractions. The yarn is a little splitty, and not very flexible, so there are a few stitches that can be somewhat tricky to maneuver. Fortunately, my favorite Addis allow for lots of *slide*--which is a good thing in this case.
Now I just hope I can stay on track with this. Between end-of-school-year activities, planning a family vacation, AND a 50th wedding anniversary celebration, the knitting time has fallen way down. Waaaah!