I'm so happy...thrilled, actually, to have finally finished the felted bag I've had in the works for a while. I'd grown so weary of working on the monotonous strap, I'd almost given up on the idea of ever having this done.
This project is one I found in the book,
Simple Knits
, many weeks ago. I loved the design and colors. The yarn specified in the pattern was
Fiesta
Kokopelli, which I haven't ever seen in any of my LYS. I checked online to see what the yarn looked like, as well as the cost. When I found it was nearly $20 per skein, I decided that Lamb's Pride could be a nice substitute.
But just before I settled on that decision, one of my knitting cohorts, Gretchen, found it online at
Knit Picks
. The only color they had was the exact color I needed (Turquoise Trail)--AND, it was on sale for about the price of Lamb's Pride. Decision made! I ordered the yarn then and there, and was not disappointed. Isn't it lovely?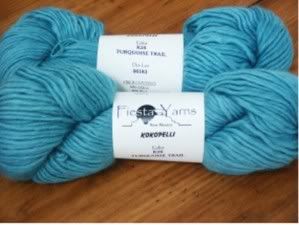 This yarn is very fuzzy, as it's 60 percent mohair! I could tell as I was knitting it that it would felt very well, mostly because it was almost impossible to rip back. I'm not sure I could ever wear it as a garment, but for felting purposes, it's perfect.
The bag itself was very straightforward to knit, and didn't take too long. I was a little slowed down by the slipping of stitches on the corners on every other row. I had a hard time remembering whether I was on a slip or a knit row, so I had to stop for corrections fairly often. What I learned--store away for future reference!--is that it made not ONE bit of difference once felted. I had supposed it would give the bag some structure on the sides, but I didn't see evidence of that when it came out of the wash.
Anyway, here's the droopy bag before its bath.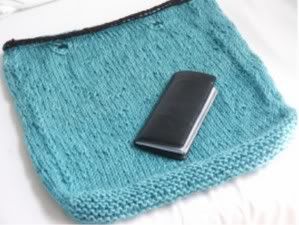 And here is my sophisticated blocking tool at work. (O.K., I actually photographed this after the bag was done...but you get the idea.)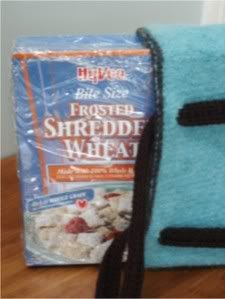 At this point, I'm excited...feeling as if I'm almost done, ready to carry the bag. After all, the only thing left was to knit the strap, right?
Yikes. This was the most boring piece of knitting I've ever encountered. I actually like the finished product, but knitting more than 70 inches of this became torture for me. You have the option to felt, or not felt, the strap. I opted for the non-felted version, so as to have a contrast with the bag, and to showcase the braid-like pattern.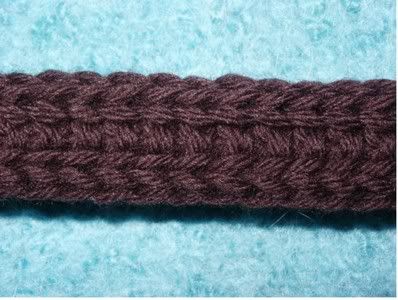 And anyway, if you were to felt this...there would be another 20 inches or more to knit first!
I have to tell you, at one point I made the mistake of taking the stitches off the needles, and could never get going again in the right direction. For this strap, you cast on seven stitches, knit four, bring the yarn forward, then slip three. Turn your work, repeat a million times, and you're done.
Well, I split a stitch at one point, decided to rip back, and could never get it right again. I finally left that section on some scrap yarn, started a new section, and grafted them together at the end. The grafted section doesn't look the best, since I didn't know how to graft "in pattern."
But at least it's done! And here it is, ready for action.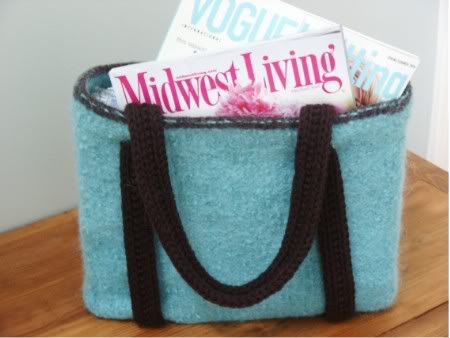 Was it worth it? I think so. But don't ask me to make one again any time soon.