Wow, a week has gone by and very little knitting has been happening. Well, that's not entirely true. I was distracted by a project I can't show you yet...and then by the purse strap that just won't end.
I finished felting a beautiful bag last weekend, was so excited to see it done, but I'm stuck on the darned strap. It's 70 inches of pure boredom. A seven-stitch, turn and knit, brain-numbing activity.
To top it off, I tried to knit a little more on it yesterday morning when I first woke up. My eyes were still bleary, but I thought, "oh well, it's just this simple strap." However, I split a stitch and kept going, then saw it and decided to rip back. What a *bad* idea! This particular strap calls for knitting four stitches, bringing the yarn forward, slipping the next three, then turning the piece and repeating the procedure.
Unfortunately, the process makes it very hard to get everything back on the needles and to go the right direction. Believe me, I've tried to restart...and I still haven't made it happen. Every time it seems right, I look at the stitch pattern and see that it's wrong.
I think I may have to start a new strap on a different set of needles, get it going, and then graft the two together. I'm not sure what else to do! The thing is, I have 50 inches of the needed 70, and I don't want to spend time ripping back...and losing ground...in the little time I have available. *Sigh.* I'd really hoped to finish this weekend!
So in order to have something to show you, I give you this.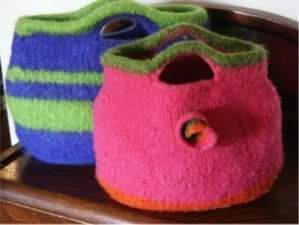 I know...I swore you wouldn't see a
buttonhole bag
on my blog again for a long time. The thing is, *I* didn't knit these! My mom made the pink one--complete with rosebud--and my sister made the blue and green one. Aren't they adorable? Both Mom and Sis are just getting into knitting again, and I think these are great results!
Well, back to the boring stuff. Stay tuned for the finale (soon, I hope) of the strap saga!