The Haiku baby sweater is off the needles. Actually, it has been for about a week. For me, that means the fun part is over. And, the not-so-fun part is waiting for me.
The.sewing.of.the.pieces.together.
At least the pieces are small, and few. Since the sweater body is knit side-to-side, there are no seams to worry over there. Just the shoulders, setting in the sleeves, and the sleeve seams.
Here's where we are right now.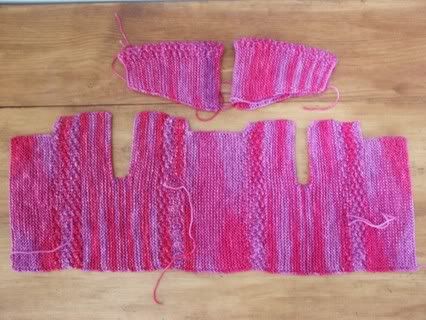 A rather strange assortment, isnt' it? I don't suppose you can gift a sweater this way, can you? Just wrap up all the cute little pieces and say, "Here you go!" No, I don't think so.
*Sigh* Time to look for the tapestry needle...and my motivation!