I love the library. You just walk in the door, settle down next to the large selection of (knitting) books, and browse away. And when you find something you like, you don't have to worry about the cost...you can borrow the book for FREE! Such a wonderful concept.
I was killing time at the library last night while my son was at his saxophone lesson. As usual, I headed straight for the knitting section (well, there really isn't an entire section, but there are two or three shelves of knitting books). I'm usually a bit disappointed because, by now, I've seen most of what's there. Last night I didn't have high hopes, but then I came across
this
book.
I'm pretty sure I've seen this one before, but maybe gave it only a cursory glance. The cover seemed familiar...yet I decided to look again. Most of what was there didn't interest me. Until I saw this.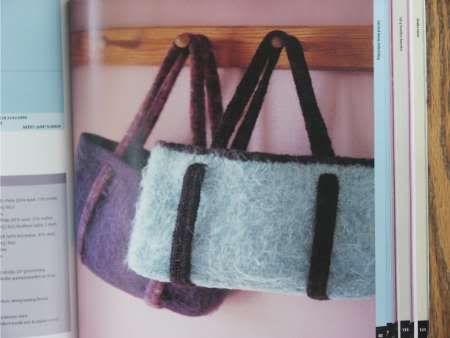 Oh, yeah...another felted bag I NEED to make. It's called "Carried-Away Felted Bag." I fell in love with it. The shape. The colors. The fuzzy yarn. Wow. This is definitely on "the list" now.
I especially love the pale blue and brown (black?) combination. Anyone ever heard of Fiesta Yarn Kokopelli? That's what the yarn is,(60% kid mohair, 40% wool) and darned if I've ever seen it anywhere. The fuzz factor reminds me a lot of Lopi, and I'm sure some substitution could easily be done. I do love the color, though. Time to do some 'net surfing to see what I can find!