I was knitting along on the Haiku baby sweater Saturday evening, working on the second sleeve. As the yarn was dwindling, I remembered the last hank I purchased had never been wound...and although I do have a Swift and ball winder, I was too lazy to dig them out and use them.
So, what to do? Well, after seeing
this
little cutie crafted by Abby, I just had to stop and make one. I already had the
pattern
, having made the "Mama" in white. So I cast on and came up with this little guy!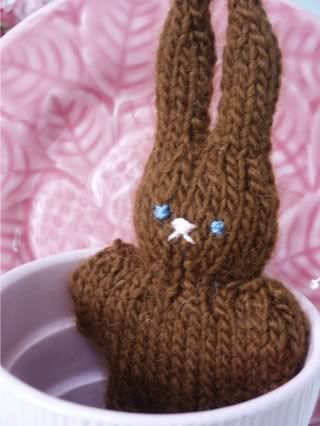 Say hello to baby bunny! A cute little pocket pal, eh? Just palm size, about seven inches tall, easy to carry about. This may be my new desktop companion. Well, at least until I make another one!