My latest obsession is knitting with this wonderful Artyarns supermerino yarn! I've never used it before, and I LOVE it. I originally purchased two skeins, intending to knit a pair of mittens for a friend. However, I changed my mind (surprise!) and decided this would make a lovely sweater for a baby girl that's arriving soon. So after purchasing two additional skeins, I was ready to go.
Here's a shot of the sweater in progress.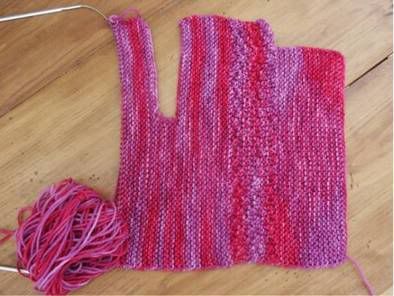 I'm using the
Haiku
pattern from
Knitty
, which I knit about a year ago for another friend. This is the right front panel of the cardigan, as well as the armnole and start of the back. The thing I love about this pattern is that the body is knit side-to-side all in one piece. No seams!
What is also fun about the pattern is you can use any yarn, any gauge, as long as you knit a gauge swatch and get your stitches per inch. You then plug that magic number into the pattern to get all the rest of the pertinent information for casting on, binding off, and such. It seemed a little intimidating the first time I knit this pattern, but I soon found how easy it was and love that it allows for such variety in yarn selection.
Anyway, this is knitting up very quickly and I'll be a little disappointed when it's done...it's such fun yarn to work with and baby things are just the cutest. Stay tuned for the sleeve update, coming soon.