Remember a while back when I was knitting the pink socks with
Bonkers
yarn? And afraid I'd run short of said yarn? Well, I did get my hands on a third hank and I finally got motivated to cast on the second sock.
The first sock was knit on bamboo DPNs, size 0. Now this is only my second pair of socks, yet I'd already begun to see that if socks were to be a regular knitting "staple" for me, I was going to need to learn one of the circular methods. Not to mention the fact that I broke two of my five DPNs on the first sock. So a change was definitely in order.
Earlier this year I purchased the "Magic Loop" booklet and did a little experimenting. I was able to make the method work just fine on some scrap yarn, but when I tried it on an actual project (a hat for my daughter) I had some frustration. I'm not sure exactly what happened, but it wasn't instinctive for me.
So I decided for the purposes of sock knitting that it was time to try the two circular method. Now THIS I like! I've found it to be very easy to do, much faster and fun. My only moment of confusion came after the heel was turned and it was time to pick up the gusset stitches and get back to knitting in the round.
The book I was using for reference,
Socks Soar on Two Circulars
, didn't help me in understanding WHICH needle was to be used for each step. However, thanks to the magic of the 'net, I was able to make sense of things. These
instructions
were a real lifesaver, easy to follow with great photos as well as written explanation. I'm now proud to show you my progress.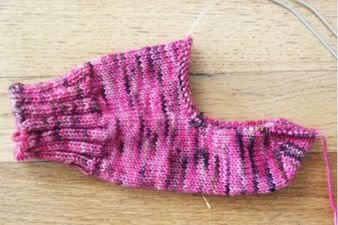 I'm feel like I'm now coming in to the home stretch. I just hope there's just a *teensy* bit of cool weather left for wearing wool socks. If not, I won't be sad (I'm definitely ready for spring) as I'll have a brand-new pair of socks waiting in the drawer when fall rolls around again!