I finished my first pair of mittens! A fun, quick knit--my favorite lately! What kept this interesting was the wonderful yarn...Lorna's Laces Bullfrogs & Butterflies, a wool/mohair blend and lovely to work with.
I used the
pattern
from Knitting Pretty, dropping two needle sizes as usual to accommodate my loose gauge, and here's the result.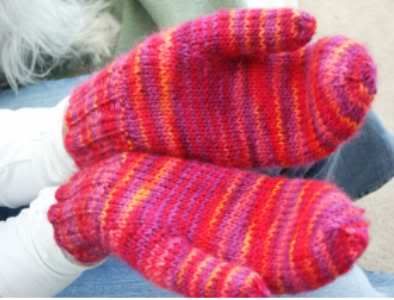 I have a fair amount of yarn left (maybe a third of the skein--60 yards?) and now I'm deciding what small project could be made with the leftovers. I'm pretty sure there's not enough for a hat or scarf, without purchasing another skein...but I hate to waste the yarn that's left.
I'll have to put on my thinking cap on this one--maybe a small felted object...a mini doll-sized sweater...hmmm...any other ideas out there?