My daughter decided she'd like one of those tight-fitting beanies that seem to be popular right now. I had bookmarked this
London beanie
pattern before Christmas, so I dug it out, made a few modifications for size, and came up with this.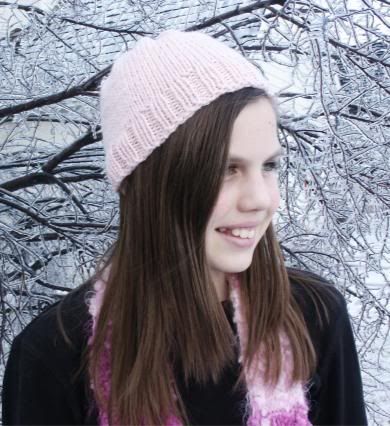 The color isn't very true in this photo, mostly because of the blinding light reflected off the snow on the ground. Note the ice-covered tree behind her--still waiting for the thaw from our ice storm earlier this week. The hat is actually a pale baby pink, which she's suddenly very "into" wearing right now. (Last year pink was on her "out" list.)
Anyway, the yarn is a super-soft, 50% silk, 50% wool by Reynolds, called Rapture. I wanted to be sure the hat wasn't itchy in any way, or she wouldn't be wearing it.
As for the size of the hat, I did decrease the stitches when casting on and decreased a few rows as well. I actually think I could have kept the row count, as the hat seems a little short to me. She insisted, however, that it was the perfect size, so I left well enough alone. And she's been happily wearing it ever since it came off the needles!