So I finished knitting all my Christmas gifts (yay!) and now I'm ready to dive into some new, lucious yarn. Here are a couple of goodies that are on my list.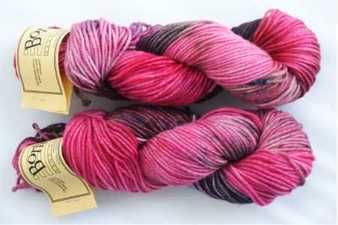 This is some yummy hand-dyed
Bonkers
yarn I bought just before Christmas and have been saving until my Regia socks were off the needles. Now that I've finally finished that pair, I've earmarked this yarn for the next round of sock knitting.
Then, there's this
It's Lorna's Laces "Bullfrogs & Butterflies," 85% wool, 15% mohair. I picked up this skein at
Yarn Shop and more
, the day before our big ice storm hit. I plan to try this mitten
pattern
from Knitting Pretty--even though I'm not currently much of a mitten wearer--just for the fun of making mittens. Who knows, if I have some this pretty, I might be converted from those basic black leather gloves.