Happy New Year, all! In honor of the new year, I've decided to learn (or at least try) a new knitting technique. Well, the technique isn't new, but it's new to ME. I'm talking about this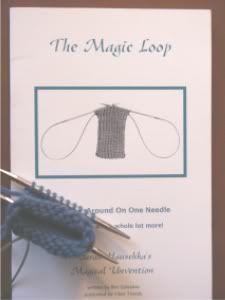 I bought this booklet some time ago, but had never taken the time to actually pull out needles and yarn to give it a try. A couple of nights ago, I decided to give it a whirl, and it's actually very easy and fun.
I'm always impressed by the ingenuity of others, and this is definitely an inventive technique. Theoretically, you can knit anything tubular on a 40" circular needle using this technique. I'm thinking about trying this on some simple mittens to see if I can really get the hang of it. If so, I'll have a new, faster way to knit small projects in the round. And if not, I'll at least have tried something new and different!