It's hard to believe the holiday I spent so much time preparing for is now over! In fact, it already seems a bit distant, although it was only a week ago that we were celebrating. I'm relieved that the Christmas knitting is now behind me, and I can get back to knitting what I want, when I want!
Before moving on, here are a few shots of gifts on their happy recipients. First, my SIL in the felted hat
And my mom in the mohair shawl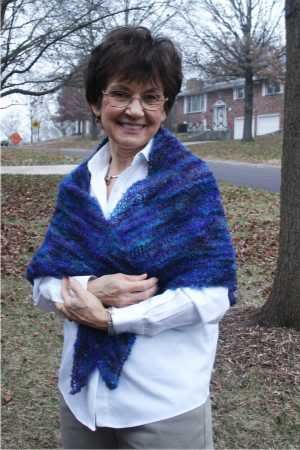 The shawl was the last item I finished, just in time to wrap and put under the tree.
It was also the first gift I started, back in the spring! Somehow it didn't hold my attention, and the fact that the yarn (loopy mohair) gave me fits didn't make it any better. Mom loved it, though, so I'm pleased.
My husband was also very surprised that I knit something for him! The Irish Hiking scarf came out great, but I'll have to post pics tomorrow. Stay tuned.